Why Choose Us
Choosing Allen + Clarke means you are choosing a group of people who are passionate about supporting you and the communities you support. Clients and partners enjoy working with us – they appreciate our thinking, our understanding, our presence of mind, humour, breadth of knowledge and insight – and our enthusiasm. Our relationships with our clients are mutually beneficial partnerships. Our system of client relationship management means you are in safe hands.
Our Purpose
Mobilise passionate and capable people to tackle the challenges facing our society
We are a group of people who give a damn. We will work tenaciously with clients because we believe that together we can make a difference.
We are all about relationships – we mindfully choose whom we want to work with (including our staff, partners, and clients).
We will make the hard calls, be direct, and challenge – but we will always respect our clients' wishes. In return, we also expect respect and commitment from those we work with.
We Give a Damn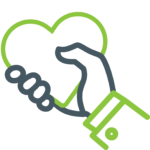 We care about our people and support them to become masters of their craft.
We take pride in delivering our best – we do not compromise on quality.
We Are Courageous
We are confident enough to challenge the status quo.
We make the hard calls.
We tell it how it is – we are direct and honest
We Are Determined
We are committed to making a difference – for our people, our clients and society.
We've Been There
Government
We have worked in the public service, engaged with Ministers, written Cabinet papers, supported Bills through the House, and compiled Official Information Act responses and ministerial materials. We know how it works – and when it doesn't, we know how to shift tack so that things just get done.
Businesses
We experience what you do. We need to meet both our business objectives and regulatory expectations in order to thrive. Our expertise in business and strong public sector background gives us a unique perspective. We speak the language of government, and can help you put your position forward.
Non-government Organisations (NGOs)
We have worked alongside NGOs for decades – helping them meet their potential and secure necessary resources, volunteering our time on various NGO Boards, and providing free services through our pro bono programme.
What Our Clients Say
Giving Back
We strongly believe that businesses can partner with governments to lead meaningful societal change. As part of our efforts, we operate a pro bono workstream.
Every year we undertake projects for organisations in areas that align with our values. Our pro bono work has provided individuals and organisations with top quality, pragmatic services.
Check out the work we are currently doing in our pro bono programme.
Policy, Research and Development
Operations, Management and Risk
Business Change
Assurance
Finance and Economics
Human Resources
Marketing and Public Relations
For bespoke support with your next project, speak to one of our team today.